interview: hijirik studio
Almost as soon as I discovered Etsy I discovered Hijirik Studio and right away fell in love with the Live What You Love Prints. I love this phrase and I don't mind claiming it as my mantra. So when I saw the beautiful way that Hijirik, the talented lady behind the press, presents it in letterpress form I knew I had to have it!
Hijirik Studio is more than one print, the shop is filled with all kinds of beautiful samples of letterpress and I always love seeing new items pop up. (Right now I am head over heels for the black lace heart!) And I am so happy to be able to feature one of my favorite Etsy shops of all time!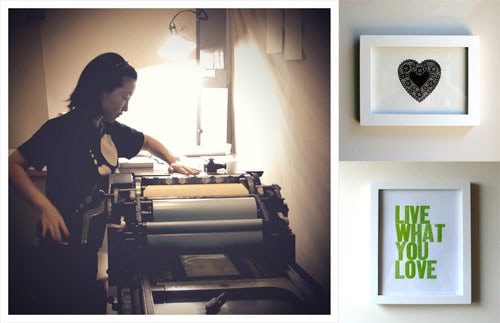 Q. Could you tell us a little about yourself?
Hello, my name is Hijiri, I am a freelance graphic & web designer as well as a letterpress printer & an online shop owner in New York City — DUMBO Brooklyn, to be exact. I am originally from Japan, lived in San Francisco for 10.5 years where I went to art school and then worked full-time as an online art director prior to moving to NYC. I live with my wonderful husband Randy, cute and funny miniature dachshund Maia, and two handsome chinchillas, Mallow and Milo 🙂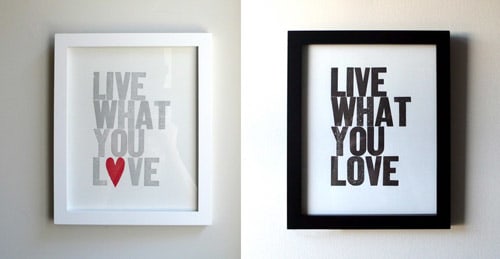 Q. How did Hijirik Studio get started?
Hijirik (my name Hijiri + my middle name initial K) Studio was what I decided to call my "studio" when I first started taking my own clients/projects while I was in school. Just wanted to call something so it sounds more exciting and sounds like I have my own studio. and 10+ years later, it is still with me, now with letterpress shop! Having a letterpress shop was a total (awesome) accident — I'd been always in love with the letterpress texture and its specialness, I'd always wanted to take a class so I can learn more about it. When I came to NY and started my freelance life, I finally decided to do a class over at Cooper Union… that was it. I was completely in love! (I never stop printing ever since.) And as I was posting about my prints I did in the class on my blog (heartfish.com) people were interested in buying one and so I set up an Etsy shop (www.etsy.com/shop/hijirik) and that's how it started. I am so grateful for my customers' support, without them, I won't be printing as much so thank you!!
Q. Your shop is so lovely! What is your creative process like?
This depends on the project… sometimes, I gather inspirations first and then, develop from there. I keep my blog for all my inspirations and that always helps to come up with something, too.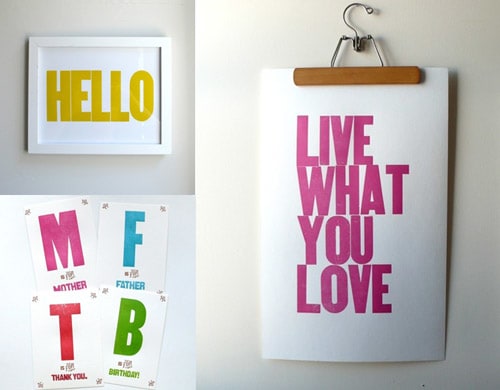 Q. What's a normal day in your life like?
Everyday is different as being a freelancer and a online shop owner and I love it 🙂 More like a weekly cycle for me: Once a week, I go to my letterpress studio to print all day. I go to post office to ship stuff twice a week. I blog everyday except weekends. When I'm not doing any of these, I am working on my clients' projects, talking to them, replying emails, managing my shop, taking photos, updating my shop… sometimes on weekends, too. Oh, and of course to hang out with my family and friends, going out in the city!
Q. What inspires you most of all?
This is hard… because, really, a lot of things/people inspire me! I am so lucky I am surrounded by lot of things/people like that. If you ask "most of all" then it's my family.
2 Responses