Posts Tagged cleaning
In past years I have tried to be a cleaning whirlwind and spring clean my house in one insane weekend.
I don't love this method. It's kind of the worst. Instead, I have created a weekly cleaning ritual and a few built-in reminders on my calendar app that remind me to do little things that I don't need to do weekly like change the air filter or clean the coffee grinder.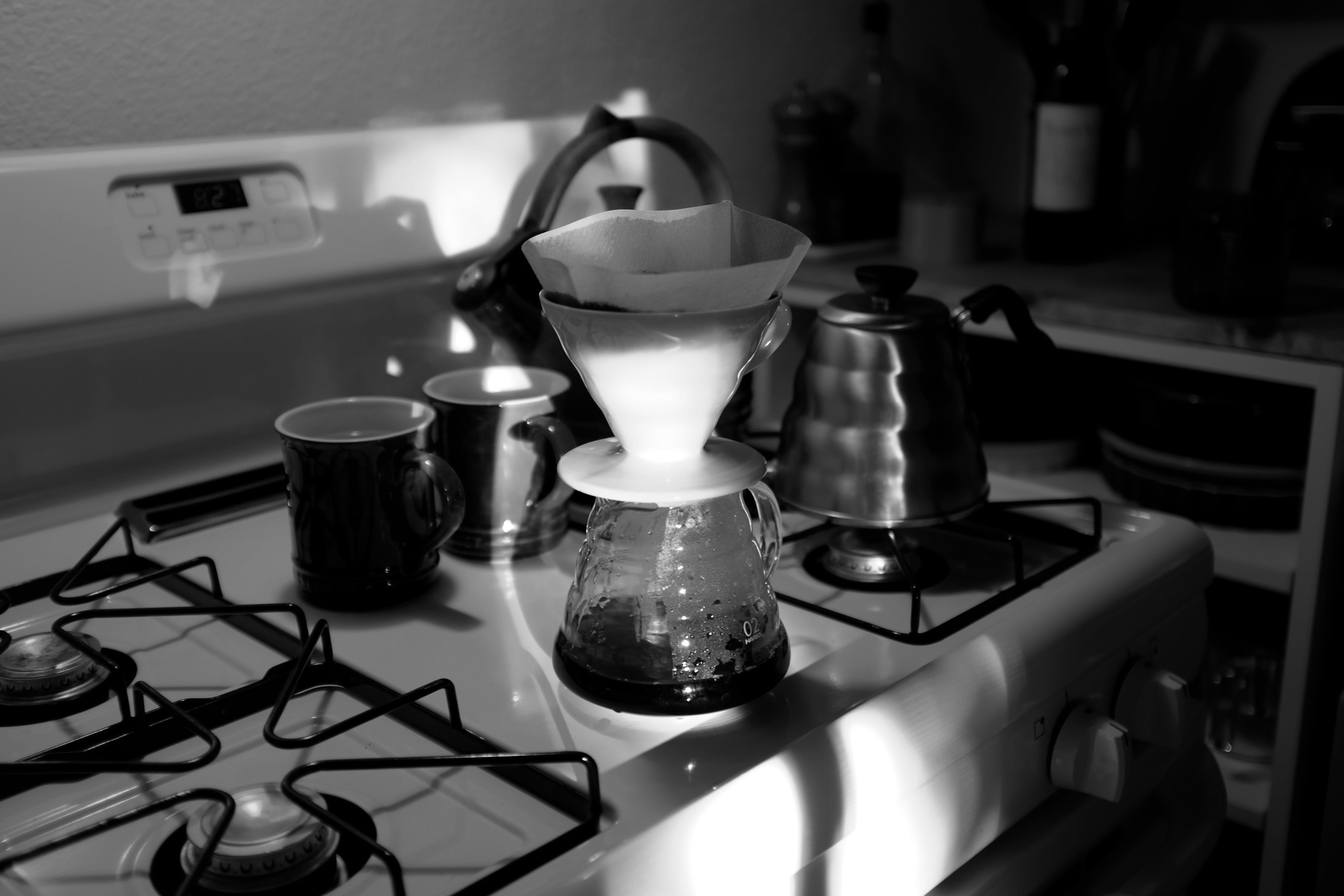 So back to kettles. I use my kettle everyday multiple times a day. It is such a workhorse and needs a little extra attention every once in a while. This method has worked well for me:
Mix 1 part vinegar to 2 parts water.
Fill kettle with mixture and let stand for 1 hour. When an hour has passed turn on the heat and bring to a boil.
Empty kettle and refill with clean water, boil, and then empty. You're done!
I do this every 3 to 4 weeks and it keeps my nice little kettle bright and clean and without build up.
I have. I have been meaning to write for some time. And since today if the official start to my spring break, now seems like a good time to update.
Last week I was sitting in my COR 302 classroom working on my spring break to-do list, while waiting for class to start. My friend saw my list and read, "Spring Break: clean office, organize craft supplies, finish stripping wallpaper in the library, clean kitchen, sort clothes…" and said, "That is a pathetic spring break." Maybe it is but while others are leaving for the beach, for home, for cruises, for Europe, I feel pretty satisfied with staying home and getting things a bit more spic and span.
I have been reading My Sister, Guard Your Veil; My Brother, Guard Your Eyes, a collection of Iranian authored essays about Iranian issues. It is fascinating. If I finish it before break is over I might re-read it. I am sure I will be quoting it often. This book has also helped me add to my list of desirable reads. (I have added Lipstick Jihad and Reading Lolita in Tehran.) I am also very interested in seeing the few documentaries on beauty shops in the middle east that have popped up recently.
I have found Iranian culture so interesting that I wrote my last close reading for Philosophy on "Whether an understanding of Iranian culture is important in today's Western society." It was a Staint Aquinas style argument and I enjoyed writing it very much. I think that had I taken this class with this professor my freshman year I would have strongly considered a Philosophy major.
The weather has been so nice some days dark and broodingly warm and others with chilly winds blowing through the bright sunshine. Since it has gotten nicer we have been able to walk Cors more. He has been averaging three walks a day. Not bad for such stumpy legs
Jon recently introduced me to a photo blog called 3191. It is a collaboration by two photographers who live 3191 miles away from each other. For their last project, they took pictures each morning for a year and then posted one from each together as one photo. They are publishing a book of their photos soon. I would like to get it. Now they are working on a year of evenings. This is one of my recent favorites. This one is beautiful too.
Speaking of web introductions, Joel introduced me to Stuff White People Like. It is a blog dedicated to explaining what white people like, why they like these things, and how you can use this knowledge to your avandage. It is hilarious and offers insight into why white people like: t-shirts, graduate schools, multilingual children, indie music, the idea of soccer, Wes Anderson movies, and much more. Basically, if you want to understand me, Joel, or any of the cool people we know check it out.
One of those cool people we know is definitely our friend Andre. He was interviewed by RFT in St. Louis and is their front cover story this month. Its such a good article.
Joel and I have been doing a lot of work on our library. It is looking so nice. I think we can have it done fairly soon. My biggest plans for spring break are to get lots of little finishing things done around the house, take Cors for lots of walks, read books (including Ireland), drink coffee, watch some good foreign films, and perhaps finish a few sewing/knitting projects.